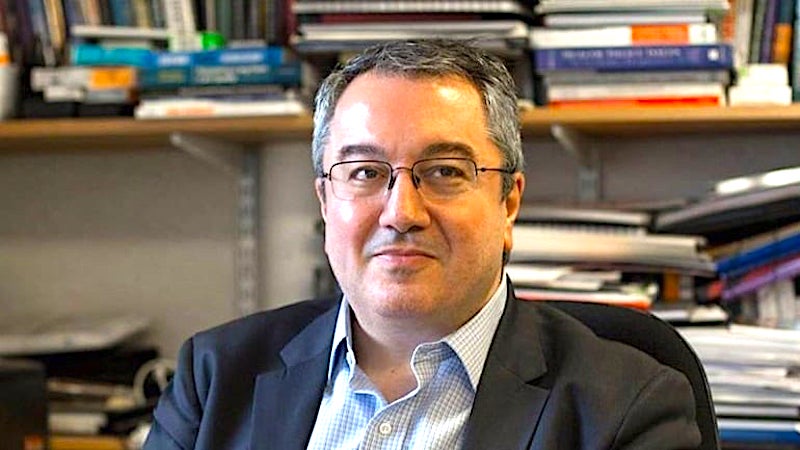 By the unanimous decision of the Senate of the University of West Attica the proposal of the Public Health Policy Department regarding the proclamation of the Professor Elias Mossialos as its Honorary doctorate was approved.
The rector of the University of West Attica Panagiotis Kaldis mentioned that it constitutes one of the most pleasing academic moments for the Institute, since Elias Mossialos  is an international personality in the field of Public Health and Health Policy and he constantly offers valuable services to the society and abroad.
Moreover, he highlighted that, the inclusion of Elias Mossialos in the potential of the University of West Attica, through the specific honorary distinction demonstrates the confidence in the capability and the prospects of the Institute. Furthermore, he stressed the scientific contribution of Elias Mossialos from his position as main representative of the country in international organizations for dealing with COVID 19.
The Head of the Department of Public Health Policy of the University of West Attica Professor George Dounias referred to his academic work, emphasizing the following.
Elias Mossialos is Brian Abel-Smith Professor of Health Policy, Deputy Head of Department of Health Policy and Director of LSE Health. He has advised the WHO, European Parliament, European Commission, World Bank, UK Office of Fair Trading, Ministries of Health and Social Affairs in Belgium, Brazil, China, Cyprus, Finland, Greece, Ireland, Kazakhstan, Russia, Slovenia, South Africa, Spain and Sweden, and health insurance funds in Austria, Croatia, France, Hungary and South Korea.
He was a member of the management board of the European Medicines Agency (2000-2003) and the board of the Hellenic National Medicines Agency (2000-2002) and contributed to the International Forum on 'Common access to health care services' co-ordinated by the health ministers of Sweden, the UK and New Zealand. He served as Minister of State in Greece in 2011. From 2009-2012 he was an MP in the Greek Parliament, served as a member of four Parliamentary Select Committees (Social Affairs, Educational Affairs, Defence and Foreign Affairs, and European Affairs), and chaired the Parliament's Special Permanent Committee on Monitoring the Social Security System (2010-11).
Professor Mossialos founded LSE Health in 1996. It is currently LSE's largest research centre with 60 staff working on a wide range of research, combining technical competence with policy-mindedness, fostering the training of young researchers and funds several PhD and post-doctoral students. Professor Mossialos' research focus is comparative health systems and policy, addressing questions related to health reforms, financing health care, pharmaceutical policies, the impact of EU law on health care systems, cancer care and policy and antibiotics. He is currently analysing incentives to address the need for sufficient investment in the development of antibiotics in order to meet changing medical needs.
Teaching
Professor Mossialos established the MSc in International Health Policy at LSE in 1999, and in 2009 he developed a modular MSc in Health Economics, Policy and Management directed at mid-career professionals who lack the flexibility to participate in a traditional MSc programme. In 2014, in collaboration with the European Society of Cardiology, he established a modular MSc in Health Economics, Outcomes and Management. In 2014, he established an interdisciplinary MSc in Global Health, and in 2018 he launched an Executive MSc in Health Policy in co-operation with the University of Chicago.
Current teaching: HP400 Financing Health Care
Affiliations
Deputy Head of Department, Department of Health Policy
Director, LSE Health
Co-Director, European Observatory on Health Systems and Policies
Professor of Health Policy and Management, Imperial College London
Co-Director, Centre for Health Policy, Imperial College London