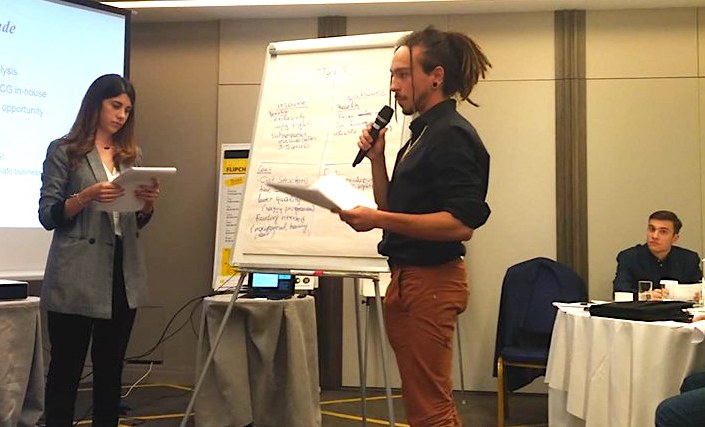 Another successful action was added to the Business Administration Department's asset of the University of West Attica. A student team of the department participated in the "2nd ICAEW Careers Networking and Business Game Event" on 14/5/2019 arranged by the ICAEW organization (Institute of Chartered Accountants in England and Wales). The team of the University of West Attica won the "Best Considered Ethics" award with the presentation and the solutions which recommended at this competition.
Goal of the event every academic year is:
– The meeting and the discussion of the students with members from international companies , business consultants,
– The submission of their resume for the participation in internships for both job search and training opportunities
– The creation of student groups which have to present their strategic proposal/advice on a case study, with the equivalent prizes for the winning team.
The students who took part in this year's competition were: Dakoutros Eleftherios, Lagogiannis Stasinos Dimitrios, Xristou Xristodoulos, Michail Argiro, Pallis Theodoros, Panagiotopoulou Afroditi, Kostopoulos Theodoros, Andreou Aikaterini, Tetorou Spiridoula Evgenia, Mouthatsou Aggeliki, Roussou Despoina, Andrianou Vasiliki, Patas Nikolaos, Vidakis Georgios, Liritzis Stilianos, Dimakou Maria, Konstadinidou Alexandra, Moudatsou Eleni, Kastaniotis Ioannis, Madouvalou Nektaria.
The preparation and the supervision of this action on behalf of the Business Administration Department of the University of West Attica was undertaken by Dr. Sofia Asonitou.